Introducing the Commercial, Industrial, and Institutional (CII) Permit
,
Last Updated February 24, 2023
California's Newest Stormwater Regulation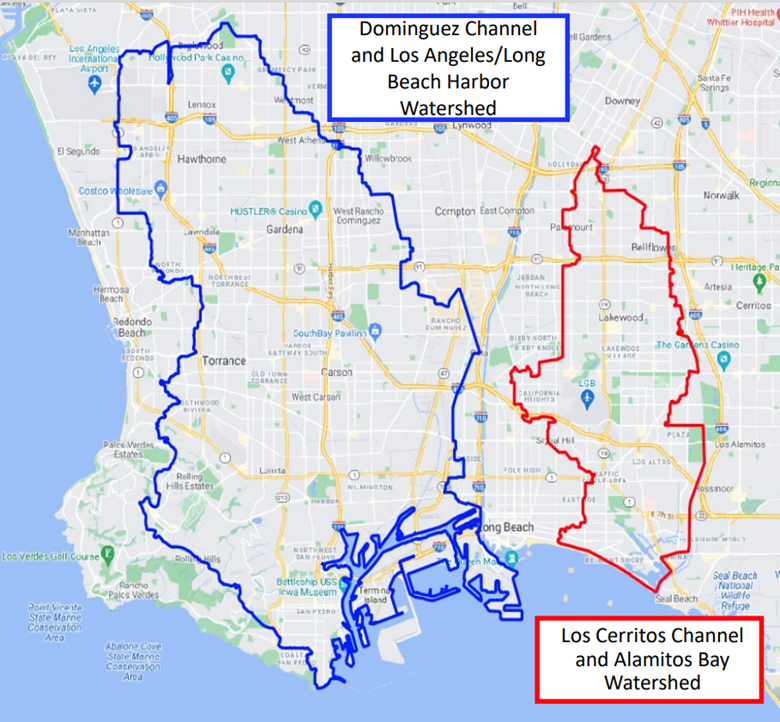 Dominguez Channel and Los Cerritos watersheds.
Source: EPA (US Environmental Protection Agency). 2022. Proposed Action to Address Stormwater Pollution in Two Los Angeles Watersheds
The Los Angeles Regional Water Board and US Environmental Protection Agency (EPA) are moving forward with a new regulatory framework for stormwater runoff from commercial, industrial, and institutional (CII) facilities in the region. The area that will be covered under this new framework includes the Dominguez Channel/Greater Los Angeles and Long Beach Harbor Watershed and the Los Cerritos Channel/Alamitos Bay Watershed.
A new National Pollutant Discharge Elimination System (NPDES) permit is currently in draft form with the intent to regulate discharges of stormwater from privately-owned CII sites like big box stores, malls, office buildings, and parking lots.
Public comments are due by October 24, 2022. This will require commercial properties to develop and implement a Stormwater Pollution Prevention Plan (SWPPP) and stormwater best management practices (BMPs) and collect stormwater samples.
Why is This Newest Regulation Being Introduced?
Traditionally, NPDES Permits are required for certain stormwater discharges. Municipalities are subject to the municipal separate storm sewer system (MS4) Permit, construction sites have a General Construction Permit, industrial facilities have the Industrial General Permit (IGP). But there are many other sources of pollutants from uses that are not currently individually regulated. The CII Permit will bring over 600 new dischargers into the NPDES Permit structure in California.
Case Law
The US District Court for the Central District of California, in Waterkeeper v. Pruitt, (No. 2:17-cv-03453) held that the EPA failed to regulate stormwater discharges from privately owned commercial and institutional properties in the Dominguez and Los Cerritos Channel watersheds. In response, EPA Region 9 engaged in the NPDES permitting process for stormwater discharges from the commercial and institutional sources within these two impaired watersheds. This resulted in a plan to impose similar regulations on schools, hospitals, and institutional and commercial properties in those two LA watersheds. In response to another 2018 district court order related to the potential for hazardous runoff into two Los Angeles watersheds, EPA Region 9 is developing more stringent, site-specific requirements for CII properties.
The EPA can use its residual designation authority under 40 CFR 122.26 to require NPDES permits for other stormwater discharges or category of discharges on a case-by-case basis when the discharges contribute to a violation of water quality standards, are a significant contributor of pollutants to federally protected surface waters, or controls are needed for the discharge based on waste load allocations that are part of total maximum daily loads (TMDLs) that address the pollutant(s) of concern.
CII Permit
CII parcel designation for the Dominguez Channel and Los Cerritos watersheds.
Source: EPA (US Environmental Protection Agency). 2021. Proposed Stormwater Residual Designation in Two Los Angeles Watersheds
After the public comment period, the Los Angeles Regional Water Quality Control Board (the Board) will likely adopt these requirements for these two watersheds by the end of 2023 with an effective date sometime in 2024. Any commercial, industrial, or institutional site with five-acres or more in impervious cover (including roofs) will be required to seek coverage under the CII Permit, including:
CII parcels with five or more acres of impervious cover
Unpermitted portions of IGP facilities with five or more acres of total area
CII land uses/examples: shopping centers, office complexes, car dealerships, warehouses, parking lots and private schools
There are several details which need to be clarified by the Board. In particular, the Board needs to define the discharger, the legally responsible person, and how to calculate common area acreage such as parking lots sidewalks and other amenities for the purpose of determining if the individual lessee is subject to regulation, or the property owner.
For existing IGP holders, permitted industrial dischargers, the CII Permit covers the non-industrial portions of the facilities (e.g., parking lots, rooftops) that are not covered by the IGP. This most likely means that industrial permit holders will no longer be able to exempt the roofs, employee parking areas, and other non-industrial portions of the facility.
Compliance Requirements (AKA What This May Mean for You)
While we wait for the Final Adopted CII Permit, compliance will require each CII Permit holder to complete the notice of intent (NOI), develop a SWPPP with site map, conduct a pollutant source assessment, install BMPs, conduct employee training, collect stormwater discharge samples, contract for laboratory analysis, prepare annual reports, and meet the very low numeric effluent limits (NELs) for copper, lead, and zinc, as well as bacteria, ammonia, and other contaminates.
There are three compliance options:
Fund a Regional Project: Pay into an alternative compliance project sponsored by a public agency
Design Standards to Reduce Runoff: Capture and infiltrate, use, or discharge to the sanitary sewer the 85th percentile storm event
Demonstrate Compliance with Water Quality Based Effluent Limits: Comply with a set or requirements like the IGP fence line to fence line
How to Prepare Now
What should you do before the CII Permit becomes effective (estimated fall of 2024)? Given this timeframe, if the CII is applicable to you, you have about one year to prepare. Several recommendations for preparing for the CII are as follows:
Read the current Draft CII Permit and understand the requirements
Identify and define the area of your commercial land use
Collect stormwater discharge samples to assess current metals concentrations
Locate areas within the property where stormwater BMPs can be implemented
Conduct utility survey and engineering calculations for stormwater capture and treatment systems
Engage a consultant that specializes in NPDES Permit compliance in California
Hint, hint; Apex Companies can help with all of these things!
What the Future Holds
Currently, the CII Permit is slated for just the two watersheds in LA-Area. California Assembly Bill AB-2106, which would have required the State Water Board to establish a statewide commercial, industrial, and institutional NPDES order (CII Permit) was rejected by Governor Newsom on September 28, 2022. Newsom's letter accompanying his rejection indicates that while he supports water quality programs and efforts to improve stormwater permitting and reporting, that changes to statewide stormwater management should be addressed in the statewide budget process and in alignment with California's 2022 Water Supply Strategy.
While commercial, industrial, and institutional water users outside of the Dominguez Channel/Greater Los Angeles and Long Beach Harbor Watershed and the Los Cerritos Channel/Alamitos Bay Watersheds can breathe a small sigh of relief, it is likely that this is not the end of this regulation, nor does the rejection of this bill prevent other California watersheds from following suit.
For more information on Apex's Stormwater Solutions, visit our website, or for help preparing for this coming regulation, please reach out to us today!
Apex Associated Press (Apex AP) represents contributions from various authors within the Apex professional community.
Please note that all content provided on this blog is for informational purposes only and does not necessarily represent the views, opinions, strategy, or methods of Apex Companies, LLC (Apex). Apex makes no representations as to the accuracy or completeness of any information on this site or found by following any link on this site. Apex will not be liable for any errors or omissions in this information nor for the availability of this information. Apex will not be liable for any losses, injuries, or damages from the display or use of this information. Apex reserves the right to edit or delete any comments submitted to this blog without notice to whoever wrote, submitted or posted the comment. Anyone who submits or posts any material to this blog waives any right or claim to privacy with respect to the content submitted or posted. By submitting or posting any content, the person or entity that does so is representing that they believe it to be accurate, have a legal right to the content, and have legal authority to submit or post it. Please do not submit or post anything if this is not the case. Please consider these requirements carefully when submitting or posting comments, photographs or other material relating to third parties who may have privacy, ownership or other rights implicated by the content. Readers are encouraged to seek professional legal, scientific, and/or engineering consultation concerning specific environmental, engineering, or other concerns. If you would like to contact Apex for more information regarding professional consultation to address your specific concerns, click here.